People in the medical field have been documenting the battle against cancer for decades. Advances in computer power now make it possible to harness the nearly overwhelming amount of data associated with the various forms of the disease and its treatments.
Mining the cells of data
When combined with the genetic and medical histories of individual patients, analytics enables truly tailored treatments. Big data analytics also may offer hope to those suffering from a relatively rare but fatal form of cancer. One big data tool that researchers can use is CellMiner, a web application developed by the Genomics and Bioinformatics Group. It grants free access to "the molecular and pharmacological data sets" associated with cancer cell samples. The data sets comprise more than 22,375 genes and 20,500 chemical compounds. CellMiner also provides analysis that identifies correlations between drugs and particular genetic profiles.
Improving informed medical decision making
Another advance in cancer research and big data was announced this past spring when Memorial Sloan-Kettering Cancer Center announced that it would combine its medical expertise in "clinical knowledge, existing molecular and genomic data, and vast repository of cancer case histories" with the computational power of IBM's Watson computer to produce "an outcome and evidence-based decision support system" that would be accessible to oncologists anywhere in the world. Having access to comprehensive information about possible diagnoses and treatments will enable them to make the most informed decisions when choosing a course of action for patients.
More recently, big data was applied with greater focus, to the study of treatments for a specific form of cancer.
GNS Healthcare Inc. in Cambridge, Mass., announced that it entered into a partnership with Dana-Farber Cancer Center in Boston and Mount Sinai School of Medicine in New York to apply big data toward the design of a computer model of multiple myeloma. Both The Multiple Myeloma Program at Mount Sinai and Dana-Farber's Jerome Lipper Multiple Myeloma Center and LeBow Institute for Myeloma Therapeutics are devoted to clinical trials of new therapies that have the potential to improve outcomes for people stricken by the disease.
Though multiple myeloma comprises only one percent of all forms of cancer, in the United States it ranks second to non-Hodgkin lymphoma as the most common cancer of the blood. It is terminal. The survival rate is just three or four years, on average, with conventional treatments. According to The American Cancer Society, the lifetime risk for the disease in the United States is 1 in 159. It is estimated that there will have been 21,700 new cases of multiple myeloma this year in the United States and 10,710 deaths.
Colin Hill, the CEO of GNS, said in a press release: "This collaboration with Dana-Farber and Mount Sinai will create models that will help transform the tremendous amount of data coming from new technologies, such as next-generation sequencing, into predictive computer models of disease progression and treatment response for scientists and clinicians."
Identifying causal relationships
The computer models are derived from the REFS (Reverse Engineering and Forward Simulation) platform. According to the GNS Healthcare website:
REFS™ uses machine learning to extract the underlying structure from data and encode it in the form of Causal Network Models. These networks represent causal relationships – not just correlations – in the data...

By capturing causal relationships, REFS™ models allow us to use simulations to ask questions about interventions. We can ask, for example, what is the effectiveness of a therapy in a patient with a particular genotype and medical history.
As Hill observes in Xconomy, "The data and the technology are really in a different place now. We are talking about remaking the whole medical landscape… we're now in a position with these rich data sets to really pinpoint the most efficacious drug targets."
If nothing else, big data drives home the message that medicine is not a matter of one-size-fits-all. Instead of just prescribing the same drug for everyone, doctors will be able to see which drugs work best for the situation of the particular patient.
Related posts:
— Ariella Brown, Technology Blogger

mharden, User Rank: Exabyte Executive
12/26/2012 | 10:59:07 AM
Re: genome smasher

GNS Healthcare is colaborating with CHDI foundation who works with researchers in academic and industrial laboratories worldwide to explore how Huntington's disease works and discover treatments that will hopefully slow its progression. Check this article out > click here



Ariella, User Rank: Blogger
12/23/2012 | 12:37:16 PM
Re: genome smasher

@
Susan I agree, tremendous potential there. Advances in science are even making it possible for people to see with bionic eyes (http://www.theage.com.au/technology/sci-tech/bionic-eye-goes-live-in-world-first-by-australian-researchers-20120830-251nu.html) and stem cells from living donors (http://mashable.com/2012/12/22/stem-cells-sight/)

Susan Fourtané , User Rank: Blogger
12/23/2012 | 4:02:12 AM
Re: genome smasher

Ariella,

Thanks so much for the link. This topic fascinates me.

I believe the different universities working in bioengineering shoulds start working closely. The research on blood vessels complements another reaseacrh I have read from another university.

It may sound like a bit of science fiction today, but as science and technology are evolving close to each other bioengineering, and organ 3D printing will be perfected to the point of assisting in saving human lives, using 3D printed organs for transplant, which could be a step forward in starting thinking of immortality. Of course this is vast topic for discussin from different angles. Super interesting.

-Susan




Susan Fourtané , User Rank: Blogger
12/21/2012 | 3:00:46 PM
Re: genome smasher

Ariella, The link doesn't work.





Susan Fourtané , User Rank: Blogger
12/21/2012 | 2:58:44 PM
Re: genome smasher

Ariella,

I know. I was not talking about donators who are still alive, but others who dies suddenly and their organs can be used.

Did you miss my article on 3D organ printing? :/ They have already 3D printed a kidney, and the first 3D printed jaw was successfully transplanted to a woman in the Neatherlands, if I remember correctly. 3D printed organs are the future of transplants, yes. This will happen in just a few more years.

-Susan



Ariella, User Rank: Blogger
12/21/2012 | 2:26:51 PM
Re: genome smasher

@Susan While kidneys and parts of livers can be donated by living people, hearts and other parts can't. The car accident victims can usually provide a source of organs from a still beating heart even if the person is brain dead. Actually, there are a host of ethical questions surrounding organ donation and how to declare death. But technology may provide alternative organ sources with 3D printing according to this article.



Susan Fourtané , User Rank: Blogger
12/21/2012 | 2:22:49 PM
Re: genome smasher

Ariella,

It looks like a lot of forms to be completed all at once. Taking photographs of certain conditions helps, yes, but it shouldn't be by default, though.

-Susan



Susan Fourtané , User Rank: Blogger
12/21/2012 | 2:04:55 PM
Re: genome smasher

Ariella,

A pharmacy is quite a good place to have those cards, not only for the volume of people going but because it's a place where normally people become more conscious about health related issues, and needs.



"The grim reality is that certain organs only work for transplant if they get them from a healthy person near death, and the source for those is usually someone in a car accident."





What organs? What about a healthy person that just dies for reasons other than a car accident?





-Susan





Susan Fourtané , User Rank: Blogger
12/21/2012 | 1:52:32 PM
Re: Big Deal Medicine

Exactly, Anna.

I believe that's one of the main reasons why healthcare centers are now collecting patient consents every opportunity they have.

-Susan




Latest Archived Broadcast
The Big Data Conference and Nemertes Research have teamed up to provide expert advice on building a big data team and finding the right leader. Join us on Tuesday, Aug. 20.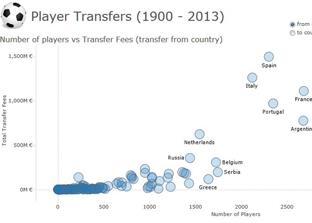 A great visualization of transfer fees leads us to think of deeper sporting analytics.
Explore this data here.
More Data Visualization Showcase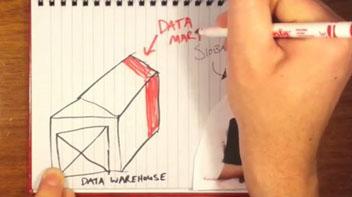 Use this video to explain quickly to someone the difference between a data warehouse and a data mart.
Watch This Video