Apart from sounding like a new Harry Potter title, the Trough of Disillusionment is a term many have used to describe where big data is right now. It is used in the context of a hype cycle model, which was first coined by Gartner and, some agree, plots the journey of new technology news coverage.
The idea is that a Technology Trigger occurs, like the release of Hadoop (for a very simplified example). People hear how much data Hadoop can handle/process, and they develop fantastic abstract ideas, which eventually lead to the Peak of Inflated Expectations. At that point, Hadoop is the answer to all our problems. Who feeds this initial news hype? Many would blame the technology companies with a direct interest. Maybe they want to secure funding, so they feed pie-in-the-sky snippets to different news outlets.
Welcome to the trough
Eventually, reality hits. The overhyping (generally nontechnical) news outlets realize that this technology is not going to deliver world peace overnight. First, you have to deal with issues like new skill sets, infrastructure, and a developing community. As a result, we find ourselves in the depths of the Trough of Disillusionment, and the negative news coverage starts. What does this mean for big data? Who will this negative news coverage impact? I think the answers very much depend on perspective.
C-level executives who are not working with big data might steer clear of any investment and see how/if things plateau out. This could be a fair assessment. It's highly likely some big data techniques we are working with today will be obsolete in one or two years. Why waste so many development resources on an emerging concept?
Executives who have already built, run, and released successful big data projects will feel that we left the technical equivalent of the Trough of Disillusionment a long time ago. Many are already on the cusp of the Plateau of Productivity (or beyond), with game-changing products or services that work.
As a business owner at www.jobstheword.co.uk, whose big data service has been adopted by the likes of Amazon, the BBC, and Skype, I hope to be judged first and foremost by my customers. However, our sales director's fears center on the end clients' impression of big data, because it's a large part of our sales pitch. If they have heard negative news, will they automatically associate that with our service?
There's a saying that there is no such thing as bad press. I'm not sure if that's true, but I think it's important for communities like ours to deliver genuine real-world insight and answers to any negative spin. Here's to a steep Plateau of Productivity incline.
Related posts:
— Will Crandle, Co-Founder, JobsTheWord and Servicemarq

Keith.Grinsted, User Rank: Petabyte Pathfinder
6/30/2013 | 9:19:17 PM
Re: Hype cycle - Europe vs US

And looking around Europe at the moment there are lots of cultures that seem intent on imploding! How you cater for such unrest in business is a major challenge.



Keith.Grinsted, User Rank: Petabyte Pathfinder
5/30/2013 | 4:21:08 PM
Re: Hype cycle - Europe vs US

@edwin there is also the issue of the wide diversity of cultures across Europe that have an impact. I appreciate you have diversity across USA but in Europe there are cultures languages and national borders.



Edwin Willems, User Rank: Exabyte Executive
5/26/2013 | 7:31:25 AM
Re: Hype cycle - Europe vs US

@Keith - yes agree, and with legislation/privacy being somewhat more strict than in the US, and on top the different member states of the European Union being at a different level of implementation of the European privacy guidelines, it makes European companies somewhat more cautious...



Keith.Grinsted, User Rank: Petabyte Pathfinder
5/26/2013 | 5:14:40 AM
Re: Hype cycle - Europe vs US

@edwin I think perhaps the fact that the US market is bigger with more customers and suppliers and consumers leads to more data and therefore big data. Doubtless the bigger European corporates will be heavily in to big data but at a lower level I think a lot of businesses are still trying to integrate multiple 'small' data sources.



amrith, User Rank: Bit Player
3/5/2013 | 7:07:44 AM
Re: Tied to Big Data

Saul, you write ...

"all that will be left are (hopefully) a very agile and intelligent data team who can focus on their work and start to produce the really brilliant business insight."

The other thing that will (unfortunately) be left around as well is a highly fragmented market of tools, techniques, duct-tape, bailing-wire and chewing gum with cute acronymns.

It will take a while for a cleanup to get us to the utopia you dream of.



Edwin Willems, User Rank: Exabyte Executive
2/23/2013 | 12:20:53 PM
Hype cycle - Europe vs US

@Will - I would be interested to see where Europe is compared to the US. Because of the nature of the beast, I think US companies are way ahead of European Headquarter based companies. Also, don't you think that with all the fuss around Big Data, people lose sight of how the business can benefit from this rather than looking at Big Data as a technology trend...?



SharCo, User Rank: Petabyte Pathfinder
2/3/2013 | 12:45:35 PM
Re: Tied to Big Data

In most situations or options out there, there will always be two sides: one that's for it, and one against it. There's also those who are iffy but might consider the technology at hand; but that is to be expected. I chalk this up as part of being human and human natuer itself. I agree that paper + digital is a sound way to go at this point, but disagree on the talk about tablets. They're slowly finding their place in the enterprise, although it might take people a while to realize this.



Keith.Grinsted, User Rank: Petabyte Pathfinder
1/30/2013 | 5:48:23 PM
Re: Tied to Big Data

@Will yes, W8, like other new technologies, is in that 'new toy' phase! The TV ads look great. The features / benefits on the box look good. The OS itself looks fun at first, touch screen (if you have one!), something new to play with.

Then....

The realisation that the hype on the box does not quite add up for you! The pain of having to learn a new system, change the way you have been working, step outside your comfort zone.......suddenly becomes too much and you wish you had your old model still, the one you got used to, the one that used to crash every day - but which at least gave you an enforced break from your laptop / PC!!



legalcio, User Rank: Exabyte Executive
1/30/2013 | 5:27:06 PM
Re: Too early to cry wolf

The reality is ROI. When the sexiness wears off we're approaching the trough. When the CFO finds Big Data sexy the CIO is probably already at the trough, but that isn't necessarily a bad thing.



Keith.Grinsted, User Rank: Petabyte Pathfinder
1/30/2013 | 4:52:13 PM
Re: Tied to Big Data

@Saul that's interesting feedback on the lecture.

I was talking with some people at a conference in London and they were saying similar things. printed matter still has its place alongside the online versions as there are still people that prefer the hands-on experience.

Chatting with tablet owners today at Anglia Ruskin University (Chelmsford Essex) I found mixed feedback about tablets. There still seems to be the perception that tablets, and the iPad in particular, are more suited for personal and entertainment use.




Latest Archived Broadcast
Join this radio show to truly understand what a CIO needs to do to build a successful private cloud and what skills and values the IT team will need to embody.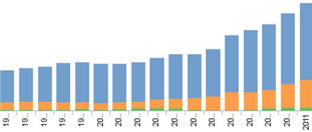 This Tableau visualization of international debt demonstrates how simple visualizations can give great insight
Explore this data here.
More Data Visualization Showcase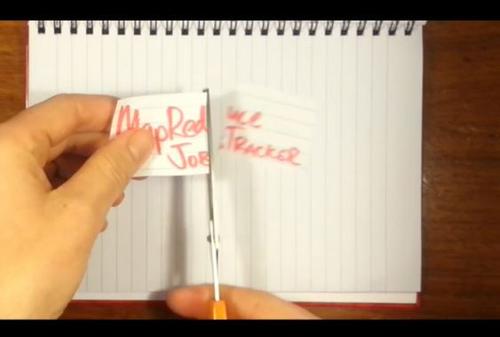 Getting to grips with Hadoop 2.0? Here's a simple video explaining YARN.
Watch This Video