Continuing the series of visualizations from the Human Face of Big Data project, Daniel Hom of Tableau created the visualization below – crossing public data on crime, safety, and global quality of life with tweets on the same topics.
Visualizations like this are a prime example of overlaying public opinion on hard, scientific research stats. In this case, the stats are provided by the Institute for Economics and Peace, and the layer of opinion (tweets) indicates a sense of sentiment on topics such as crime, safety, and kindness.
Leveraging a well built Hadoop setup, pulling in such social sentiment and mashing it with known facts about an area, it isn't hard to see how governments could utilize these two layers to have a more informed idea of policies and how they are performing. While the data gathering process at the moment might take a while to get up to speed, the social layer would work in real time – allowing policy makers to get a real idea of how their ideas are received, and eventually to see what impact they actually have when in place.

MDMConsult, User Rank: Exabyte Executive
12/14/2012 | 4:20:38 PM
Re: A happiness indicator?

Detecting sentiment worldwide in other languages in these type of visuals are still quite challenging. As we see in Saul's article, social media
data is important to they type of conversation in its specific form. Sentiment correlates well with social data analysis. When you look at such tools being used worldwide or for broad populations of consumers it makes sense.

Saul Sherry, User Rank: Blogger
12/11/2012 | 5:19:17 AM
Re: A happiness indicator?

The tech needs to stay with us as well SharCo! And we need to remain vigilant. Are sentiment analysis tools keeping up? Are they built to deal with an increasingly ironic worldview?

Almost as important is making sure we know we are getting a good cross section of the community in these reports. How old are most twitter users? If we are baisng policy decisions on this analysis are we leaving the plus 65 years olds in the cold?

There's a nice social media breakdown at Royal Pingdom... but once you've identified those gaps, how do you fill them?



SharCo, User Rank: Bit Player
12/11/2012 | 5:14:32 AM
Reminds Me of Something Jello Did

It reminds me of a Twitter-integrated app that was released by Jello as part of an ad campaign to make people happy last year.

If I remember correctly, they parsed through Twitter feeds and had a happiness meter based on these. If too many people tweeted ":(" then they'd offer free Jello to get people happy again.





SharCo, User Rank: Bit Player
12/11/2012 | 5:14:00 AM
Re: A happiness indicator?

You have a good point, Saul. This is such an interesting app. At the outset, it might seem like a novel application but it goes way deeper than that. It might look bad with all these negative tweets, but what's important is that we look deeper and come up with interpretations of these data, as Saul pointed out.



Daniel Gutierrez, User Rank: Blogger
12/10/2012 | 5:50:16 PM
Re: A happiness indicator?

I haven't examined the code, but you can click HERE for a demo of the Twitter sentiment analysis dashboard I was referring to. This one presents "How popular is fast food." There may be a correlation with obesity here ...





Saul Sherry, User Rank: Blogger
12/10/2012 | 1:06:24 PM
Re: A happiness indicator?

I disagree Kiran, for the right sets of eyes looking at these evil missives can be very informative. Where is a likely area for race-crime? How is a certain area reacting to policy decisions? Who is responding with most vitriol to news announcements?

Awareness of this is better than letting it go unacknowledged.



kiran, User Rank: Megabyte Messenger
12/10/2012 | 9:21:16 AM
Re: A happiness indicator?

very intressing thing, i must say. one can know their and worldwide people's happiness level by usiing this sytem. Systems like this can provide 2 sides of the world, the good and developing one by showing the rates and reports of happy, satisfied , caring people and unfortunately, the other side can be viewd too.However, it will be very unfortunate to see that the evil things are talked more about on web pages, like twitter.



Saul Sherry, User Rank: Blogger
12/10/2012 | 5:44:07 AM
Re: A happiness indicator?

How advanced with the language detection on that one Daniel? Linguistic programming is obviously a fraught area full of development at the moment - and I hadn't even thought about applying that across different languages...



Daniel Gutierrez, User Rank: Blogger
12/7/2012 | 12:38:08 PM
A happiness indicator?

Coincidentally, I attended a local Meetup last night - Los Angeles R Users Group and the topic was "Real-time dashboards with Node and R". Node is an event-driven I/O server-side JavaScript environment. The lecturer, Dr. Dirk Neumann from Caltech, provided an example quite similar to the Tableau visualization in this post. The sentiment analysis in his demo was higher level, a map of the globe that showed relative "happiness" based on Tweet content. It appears that based purely on Tweet sentiment, North America is filled with happy campers, Russia not so happy. I realize this is hardly actionable information, but as a Data Scientist I was thrilled to see the Node code and the R code that provided the sentiment analytics. He used Google Chart Tools for the visualization. Check the Meetup site later, Neumann was supposed to make his slides available - a valuable resource as a machine learning template.



Saul Sherry, User Rank: Blogger
12/7/2012 | 10:21:09 AM
Re: Not sure about this one...

This particular version gives an interesting oversight of the global, and there will be some interesting markups here. It will really show insight with the ability to zoom in, a city, state, county - showing up to the powers that be where issues are, and what their citizens feel about/respond to.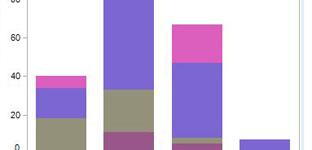 Survey results show bigger companies still confident in spite of massive IT overhaul requirements.
Explore this data here.
More Data Visualization Showcase