We are living through a time of huge breakthroughs in data storage, which have changed the numbers we will use to describe the physical size and speed of storage forever.
Honey, I shrank the datacenter
Starting with the physical size of data storage, the world has just gone tiny -- storing data using a smattering of atoms. As Popular Science reported, researchers at IBM and the German Center for Free-Electron Laser Science have managed to squeeze a whole byte on to just 96 atoms. The technology used to facilitate such a magnitude of shrinkage (previously a byte would fit on roughly half a billion atoms) is still in development, and as such it's still a fair way from working its way into the enterprise datacenter. However, this lays the groundwork for the future of data storage, meaning everyday use is feasible down the line.
IT managers must be salivating at this thought -- especially those for whom server real estate is an issue. By the time this form of storage comes to fruition, there's a good chance cloud migration will be near the saturation point, so the major impact on space will probably happen in that arena. However, this creates an interesting potential for startups that will need to be agile. Huge (capacity wise) storage setups will not struggle for physical positioning in their Hadoop clusters, allowing for a low-latency, ideally real-time setup.
Honey, I sped up the datacenter
Speaking of low latency, the huge figure this week came from data transfer speeds. Naptech announced today that it has managed to achieve 100Grps throughput with Dell PowerEdge servers. Such transfer speeds would have clear benefits to enterprises looking to increase their reliance on massive data stores, giving more scope for timely responses to business conditions. Henrik Brill Jensen, Naptech's CEO, said in a press release that throughput speed was "something we have not seen previously."
Moore's Law has certainly shown its power this week, but as these incredible technological breakthroughs continue to take place, I fear they place more emphasis on the missing quota of data scientists that businesses will need to take full advantage of these developments.
Related posts:
— Saul Sherry, Editor, Big Data Republic

Keith.Grinsted, User Rank: Petabyte Pathfinder
2/28/2013 | 8:43:19 PM
Re: Big data + Moore's Law = Data Science

@Saul most people will rather take something to remedy the symptoms than try to find out the root cause.

IT use workarounds because they don't have time.

We all use patches of some kind to help us out.

The pace of change, indeed the pace of everyuthing(!) rules against taking time to sort things properly.





Keith.Grinsted, User Rank: Petabyte Pathfinder
12/28/2012 | 10:54:27 AM
Where is the cloud today?

@SharCo mentions the cloud and its future. That is an issue. But also where it is at today is an issue.

All this talk about accessing the cloud from anywhere, the general concept that it is limitless and is all around us is worrying!!

It is not G*d!

It also is not some wonderful solution that exists in the atmosphere somewhere (though who knows, it may well do someday!) - it eventually falls to earth and the data we rely on is stored on hardware via networks in buildings somewhere we know not!

There are constraints of hardware, software, bandwidth, resources (power air con etc) that have a finite life!





mharden, User Rank: Exabyte Executive
12/26/2012 | 11:48:24 AM
Re: Big data + Moore's Law = Data Science

This is definitely huge news. I wonder how far it is from mainstream production is though. I suspect that it will take several years for this to be ready for commercial distribution. I wonder what kind of impact this will have on software development?



Saul Sherry, User Rank: Blogger
12/12/2012 | 5:28:44 AM
Re: Big data + Moore's Law = Data Science

I don't think so @technetronic, but I dearly hope you are right. True enough these devices are pumping out data, but I'm wondering about the opt in nature. We seem to have far more people living without regard for their health, than those who are on the lookout for constant improvement.

IF, and it's a big if, these devices became non-optional through insurance or government schemes, then the data coming out would be immense, a tidal wave of heart BPMs and body fat content.



technetronic, User Rank: Blogger
12/11/2012 | 10:09:56 PM
Re: Big data + Moore's Law = Data Science

Personal medical data is going to be the bulge...things that track your health across multiple variables in every moment. Check out the Tinke Wellness Monitor as an example I came across today.

Security, again, becomes paramount, as this is stored on Tinke's servers.



Saul Sherry, User Rank: Blogger
12/11/2012 | 10:55:32 AM
Re: Big data + Moore's Law = Data Science

It won't necessarily be a tech revolution, just refining our current use of the cloud/setting up hybrids for the data that has different requirements. What ever we will be doing, we will need less space to get it done (for a while).



SharCo, User Rank: Petabyte Pathfinder
12/11/2012 | 5:05:39 AM
Re: Big data + Moore's Law = Data Science

I'd like to think that we would find another alternative to the Cloud by then, especially if the technology can no longer accommodate all the data that needs to be stored. I wouldn't say that it's inevitable that the Cloud won't be able to handle all the data requirements in the future. Rather, I think it will be able to manage--until we find something better.



Saul Sherry, User Rank: Blogger
12/10/2012 | 3:17:22 PM
Re: Big data + Moore's Law = Data Science

That poses a question we're not talking about much. We know all about self reporting machines and mobile devices generating this latest deluge of data - but what forms of data are expected to make the storage bulge in the next ten years?



legalcio, User Rank: Exabyte Executive
12/10/2012 | 1:57:47 PM
Re: Big data + Moore's Law = Data Science

Yep, a lot will be in the cloud, and a lot is already. And not matter how compact and fast big data gets, it still won't be enough to keep up with the tonnage of data we manage to create every day.



kiran, User Rank: Petabyte Pathfinder
12/10/2012 | 8:53:26 AM
Re: Big data + Moore's Law = Data Science

good point @Saul, cloud storage is indeed getting popular and is used by many organizations and people now. When the data storages are getting more in size and less in price, they are also very easier to user and with time who knows what data storage shift comes. But for now lets keep our fingers crossed for cloud storages. will reduce our storage devices that we've to carry around all time with us.




Latest Archived Broadcast
Join this radio show to truly understand what a CIO needs to do to build a successful private cloud and what skills and values the IT team will need to embody.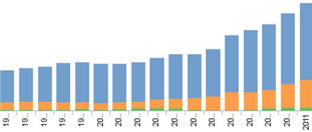 This Tableau visualization of international debt demonstrates how simple visualizations can give great insight
Explore this data here.
More Data Visualization Showcase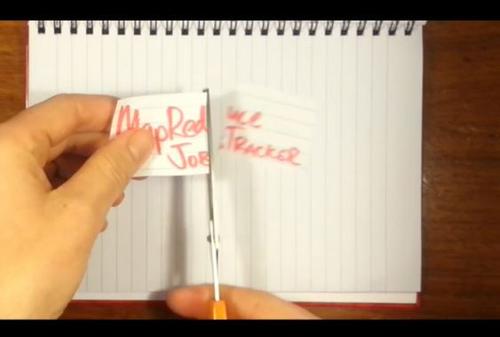 Getting to grips with Hadoop 2.0? Here's a simple video explaining YARN.
Watch This Video