As the price of mapping the human genome, and utilizing the massive data sets spawned by the process continues to fall, the UK government announced plans to map over 100,000 cancer and rare disease patients.
The BBC's Fergus Walsh today reported that this massive initiative is set to cost £100m over three to five years. As the first mass DNA mapping project in the world, the government stands to benefit from the increasingly affordable nature of the DNA squencing process; GBP£5,000 -- £10,000 (US$8,000 -- $16,000) at present, a dramatic increase from GBP£59,000,000 (US$95,263,072) in September 2001 according to DNA Sequencing.
Three billion
There are three billion pairs of code in the human genome, making this a serious big data project. According to Walsh's article, Prime Minister David Cameron said ahead of the announcement: "By unlocking the power of DNA data, the NHS will lead the global race for better tests, better drugs and above all better care."
This despite the fact that both the Conservatives and liberal Democrats had opposed Labour's proposed DNA database on civil liberty concerns. As indicated by the Prime Minister's statement, the real benefits now stand to be gained in the analysis of these massive data projects in the medical arena, identifying best treatments and developing new ones by comparing data sets.
Price continues to fall
By the time the UK government's initiative is in full swing, there is a good chance the process will be even cheaper. In January this year, CNET reported on an upcoming DNA sequencer from Life Technologies, which promised to "decode an entire human genome in a day for $1,000." The start date for the mass DNA mapping project is yet to be confirmed, so it is unclear whether further cost reductions would result in more than the announced 100,000 patients being mapped.
UK health focus on data
The announcement coincides with budget and staff cuts for cancer, heart, and stroke patient clinical networks reported elsewhere on the BBC. While the move reflects a restructuring in these networks (met with both praise and scorn), these cuts, viewed in light of the investment in the mass genome mapping project, give an indication of where the UK government places the importance of such technologies.
Related posts:
— Saul Sherry, Editor, Big Data Republic

kiran, User Rank: Petabyte Pathfinder
12/18/2012 | 1:34:39 PM
New Mutations

The human genome was coded more than a decade ago. Most cancers and inheritable diseases have been narrowed down to the causative mutations. So why mass Map? One direction is to identify newer mutations that make the disease irresponsive to the medications which were responding earlier. As most of the patients who would undergo this phase of mass mapping would be under different phases of tratments, analysing this data set would be particularly interesting to note for the newer mutations (if any) have occured with the initiation of treatment with certain drugs (making them resistant to treatment now)



Saul Sherry, User Rank: Blogger
12/13/2012 | 3:23:05 AM
Re: Mass DNA Mapping

The amount of data this will spew out is worth mentioning too @SharCo... Medical data is particularly sensitive when taken to the cloud, so it remains to be seen what storage options will be available the the NHS in terms of dealing with the bulge. Hopefully it will encourage better understanding and new best practices around the legalities of storing such personal info... I don't think I'd appreciate a full map of my genome falling into nefarious hands. I mean, I'm not sure what anyone could actually do with it, I just don't like the idea.



SharCo, User Rank: Petabyte Pathfinder
12/13/2012 | 1:09:49 AM
Re: Mass DNA Mapping

What an interesting and costly endeavor. I do agree that it is groundbreaking. The possible uses of this data is countless, and it will further disease research by leaps and bounds. I do hope that it improves treatment and knowledge on the so-called non-'moneymaking' diseases as well, because even though it might seem like a minority, people's lives are still at stake all the same.



legalcio, User Rank: Exabyte Executive
12/11/2012 | 3:32:17 PM
Re: Mass DNA Mapping

This could be groundbreaking for disease research, and enable greater research for rare diseases. Hopefully it will also filter down to big pharma to reduce the costs of R&D and spur the development of treatments for not just the "moneymaking" diseases, but those rare, low volume diseases. Privacy becomes a concern if mapping includes healthy citizens. Swabbing for a DNA sample during a routine MD visit might could be a problem, although a potential benefit is isolating DNA that could be a disease predictor.



Ariella, User Rank: Blogger
12/11/2012 | 12:20:01 PM
Re: Mass DNA Mapping

@Saul yes, I do hope that they will take advantage of big data tools to build on what others are doing and not try to make the project a self-contained one.



Saul Sherry, User Rank: Blogger
12/11/2012 | 12:07:47 PM
Re: Mass DNA Mapping

Ariella, at this point there have been no announcements on that side of the spectrum (in fact, all details beside the cost and timeframe are scant - there isn't even a start date). Hopefully as this involves the NHS, such a spirit of collaboration can be entered into - you are right, if we combine these pots of big genome data, there should be better results all around.



Ariella, User Rank: Blogger
12/11/2012 | 11:47:07 AM
Mass DNA Mapping

@Saul Mapping DNA is a huge project. I know that researchers in the US are also working on this. Do the UK researhers have a strategy that could build on what is done elsewhere in the world to avoid replicating work that was already done and achieve faster results?




Latest Archived Broadcast
The Big Data Conference and Nemertes Research have teamed up to provide expert advice on building a big data team and finding the right leader. Join us on Tuesday, Aug. 20.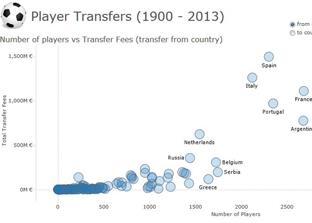 A great visualization of transfer fees leads us to think of deeper sporting analytics.
Explore this data here.
More Data Visualization Showcase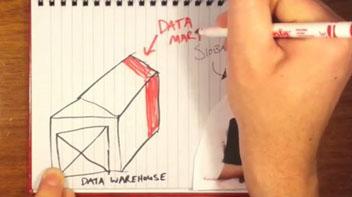 Use this video to explain quickly to someone the difference between a data warehouse and a data mart.
Watch This Video