According to Network World, there were roughly 1.7 billion Internet users in 2010, with the National Science Foundation predicting 5 billion users by 2020.
Mapping the world's Internet use
The visualization below, provided by Tableau, shows the spread of Internet penetration globally. While Africa and North America show predictable results (sparse and saturated, respectively) a quick drill down into the Asian sector shows a few red dots (under 20 percent) and a smattering of yellow (40 percent and under). Scaling back to just 2008 shows a much higher proportion of red. Combine this with what we know about certain countries in this area (China and India, I'm looking at you here), and the potential for Asia to play a huge role in that explosion up to 5 billion seems clear.
Indeed, Business 2 Community reported last week that although only 30 percent of the Asian population currently has Internet access, that still equates to more than a billion users.
What does this mean for big data?
More users online will mean more visible behavior. One of the more mature elements of big data, examining Internet habits as a means to produce retail initiatives, stands to gain here -- but the challenge of this explosion in data remains clear. Will data analysts be prepared for another 3.3 billion users worth of data?
Related posts:
— Saul Sherry, Editor, Big Data Republic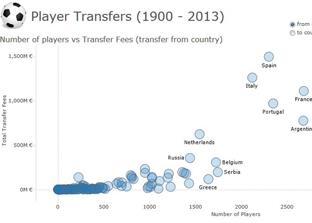 A great visualization of transfer fees leads us to think of deeper sporting analytics.
Explore this data here.
More Data Visualization Showcase