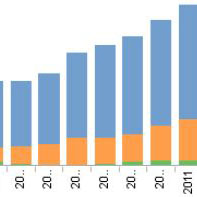 A visualization doesn't have to be innately complex to have value. To prove this point we've pulled apart a financial Tableau visualization to see what makes it tick.
The visualization we're looking at comes from a post by Ibrahim Levent on Open Data: The World Bank Data Blog. The visualization was created to demonstrate:
...for the first time International Debt Statistics 2013 and the IDS database... include high frequency, quarterly, external and public debt data for both high-income and developing countries collected and compiled by the World Bank in partnership with the International Monetary Fund.
Simplicity has its own power
The visualization below does not drill down into outliers and offer up the ideas of new business offerings or efficiencies. It might not even suggest anything that the end-user of the visualization does not already know. What it does is solidify and simplify huge data sets, allowing for the state of play to be grasped in one glance. Key stakeholders may be aware that overall debt is on the upswing, but the curve in the first graph shows by what magnitude this number is increasing. Similarly, the state of US gross external debt may be known – but here the disparity with other nations is neatly encapsulated.
Combinations: greater than the sum of their parts
The simplicity of each of the three graphs within the display doesn't mean the overall impact is simple. Rather, three easily graspable data sets like this represent a complex whole, easily consumed. Global stats give you the state of play while country breakdowns point the finger at responsible players. Broken out to an enterprise scenario, overall information shows where the company is failing or succeeding. Localized or geographical information quickly outlines the areas to observe.
Once that scene is set, the real investigation can begin, running queries through your Hadoop clusters to drill down and find usable insights within the vast volume of data captured.
It's out there, it's yours
The final point to make about this data is its source. As the Open Data blog says, "Here's an example of the data available in the IDS database." That's data that's out there – and it's free for you to add to your own insights for a bigger picture. Now, who's up for some data mashups?
Related posts:
— Saul Sherry, Editor, Big Data Republic

Keith.Grinsted, User Rank: Petabyte Pathfinder
5/26/2013 | 4:07:47 AM
mindmaps and visualisation

I am a great believer in mind maps and use them in many situations. I work with a lot of people who have been made redundant or have been out of work some time and find mindmaps help them get some focus back. Even if they have never used them before, which is the norm, they take to them very quickly when they can see their life being mapped out! I recently got myself a Samsung Note and with an app called papyrus I am happily mind mapping away to my heart's content.



Keith.Grinsted, User Rank: Petabyte Pathfinder
3/31/2013 | 7:34:51 PM
Re: Visualizing friendships

@Daniel that is a really ghostly visualisation indeed. Very artistic in appearance and would make a great illuminated artworks an office wall or reception. You can clearly see where the greater densities are but also the extent of the spread of coverage. This is the sort of graphic you could study for hours and draw all sorts of conclusions from.



Keith.Grinsted, User Rank: Petabyte Pathfinder
3/31/2013 | 7:30:36 PM
Re: Top 10 worst visualizations

@Daniel they are great! Its a bit like statistics for statistics sake! We have done the experiment and we will represent it in a graph even though we found nothing out at all!



Keith.Grinsted, User Rank: Petabyte Pathfinder
3/31/2013 | 7:19:48 PM
Re: Data-driven documents

@Saul quite right. I generally work in mind maps whilst my wife works in lists. I can visualise how the furniture will look without moving it, she needs me to move it to see how it looks. There's no right or wrong way, we are all made different and thank goodness for that!



Keith.Grinsted, User Rank: Petabyte Pathfinder
3/31/2013 | 7:16:45 PM
Re: Data-driven documents

I am working with a retail client that had made perfectly reasonable assumptions about its trading position in a certain town based upon the data had accumulated over a number of years. Then recently we installed some new kit to measure footfall and volume of traffic through each entrance. After only a month the new database completely turned on its head what was previously believed and interpreted! We now have a totally new strategy to create and a whole new set of challenges!



Keith.Grinsted, User Rank: Petabyte Pathfinder
3/31/2013 | 7:11:33 PM
Re: Data-driven documents

@Gabriella I love the cosmetics ads you get on tv going out to an audience of millions saying something was the best at wrinkle reduction or something and then in very small print at the bottom of the screen it says it was tested by about 150 people! Lies, Damon lies, and statistics I think was the phrase used long ago!



Saul Sherry, User Rank: Blogger
2/6/2013 | 8:30:27 AM
Re: Top 10 worst visualizations

Daniel, that's briliant! A real compendium of stupidity to be avoided at all costs! I imagine there will be an updated version along soon, as data departments try to up their ability to deal with bigger data sets!



Daniel Gutierrez, User Rank: Blogger
2/5/2013 | 6:41:29 PM
Visualizing friendships

Here is one of my favorite visualizations. This one uses data from Facebook's HIVE data warehouse, about 10 million friend pairs (see description HERE). The visualization was done using the R environment (my favorite). I think this communicates rather well -- it is a small world!





Daniel Gutierrez, User Rank: Blogger
2/5/2013 | 6:25:23 PM
Top 10 worst visualizations

Along the lines of this discussion, I'd like to introduce a little whimsy with the Top 10 Worst Graphs compiled by Professor Karl Broman of the Biostatistics Department at the University of Wisconsin-Madison. The list is complete with the offending graph along with a discussion of why it is so rotten. Enjoy!





Saul Sherry, User Rank: Blogger
2/5/2013 | 12:57:23 AM
Re: Visualization: it's all in the story

Which brings us back to the people worthy of the Data Scientist role... beyond understanding the data, they will need a wider vision of the organisation, as well as the key stakeholder (and the ways they will respond to communication)




Latest Archived Broadcast
Join this radio show to truly understand what a CIO needs to do to build a successful private cloud and what skills and values the IT team will need to embody.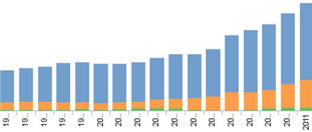 This Tableau visualization of international debt demonstrates how simple visualizations can give great insight
Explore this data here.
More Data Visualization Showcase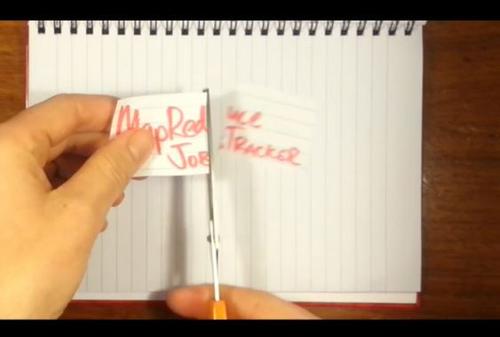 Getting to grips with Hadoop 2.0? Here's a simple video explaining YARN.
Watch This Video