On 21 January the world celebrated the first "Orwell Day" in celebration of the great author's life and works -- meanwhile, a new big data imaging project brings some of his most vivid visions to life.
The Argus is essentially a camera unit designed to be airborne and shoot video at a massive resolution, and it's made up of 368 imaging chips. This creates a huge stream of data, as Yiannis Antoniades, Director at BAE Systems, describes in the video below:
That results in a 1.8 billion pixel video stream, amounting to 1 million TB of data per day.
We're watching you, closely
The video is recorded from above, and all that data is stored in case the video is needed for retroactive viewing. This is where the genius of the camera comes into play; fine resolution areas of video can be zoomed in on at different points. Antoniades is able to pick out a man swinging his arms and a bird flying overhead (or underhead, from the camera's point of view). With this level of detail, the Argus becomes the ultimate surveillance tool, a far more refined idea of Big Brother than even Orwell could come up with.
Such an extreme stream of data is going to mean a massive storage infrastructure needed for whichever body is to house and utilize this volume of information. There will of course be a case for real-time use of this data, monitoring events as they happen. But there will also be huge benefit to be gained from mining that 1 million TB per day -- which over the course of many months adds up to a scary mountain of data. Combining automated searches and tracking across these video files alongside other sets of data could yield huge and epoch defining results.
Privacy concerns are huge with this type of technology -- we're all familiar with the complaints leveled at Google for its street view project, especially with stories like this Frenchman who sued for being caught in an embarrassing pose, as reported in PCWorld. While the obvious use for the Argus is in conflict situations, as use as a surveillance tool, it's not huge leap to imagine the tool employed on home soil in times of unrest or high crime.
UAV DIY
Antoniades states the best use of Argus lies in a slick, ultra-expensive UAV -- his approach to building the imaging device smacks of DIY. But with the right timing and funding, who knows where this technology could take us -- with fine enough resolution, we could be identifying faces reflected in shop windows.
The DIY angle throws up another question, although it might not be such a big data issue to start with. Gizmag reported on a US$49 personal autonomous micro UAV -- with cannibalized mobile phone cameras, what could this mean for personal privacy in the short term?
Related posts:
— Saul Sherry, Editor, Big Data Republic

SharCo, User Rank: Petabyte Pathfinder
2/3/2013 | 12:43:09 PM
Re: Uprising privacy concerns

Sabbate, thanks for these additional links. Definitely adds more to Saul's discussion on the matter. Privacy concerns aside, this is really something worth looking at.



Saul Sherry, User Rank: Blogger
2/1/2013 | 5:15:10 AM
Re: Uprising privacy concerns

And the very nature of big data makes it an even bigger issue @Patrick. Once those phone records/emails etc can be pinned on visual intel like this, it will happen. Most of the required tech is already there. A GPS smartphone will tie a singular phone number to a gps coordinat. So not only can they hear your call, they can see what you were doing (if you were outside, for now).

Bringing this variety of data together makes it scaries, but also opens up even more potential benefits - kidnap cases, abductions, missing people etc.



Saul Sherry, User Rank: Blogger
2/1/2013 | 5:10:53 AM
Re: Uprising privacy concerns

Good insight @technetronic - which raises the DIY question further. Ok so we won't be able to make anything like the Argus in our bedrooms - but kits and technologies are more accessible and understood than ever... and the policy doesn't really impact home brewed tech jobs like this.



technetronic, User Rank: Blogger
1/31/2013 | 4:26:27 PM
Re: Uprising privacy concerns

will gets at the positives, too, but because tracking is so easy means that there's an inherent bias toward opting to use the technology than not. that is to say, if the barrier to entry/usage is low in one area (actual technical capability) it has to increase in another area (policy) in order to ensure that a particular tool is used appropriately



Keith.Grinsted, User Rank: Petabyte Pathfinder
1/31/2013 | 2:02:48 PM
Re: Uprising privacy concerns

@Saul yes lots of data but at what cost?

In my vehicle tracking days some saw the cost as a benefit, others did not! Some wanted live tracking while others just wanted a daily update at the end of the working day.

It all depended on other processes and whether there was anyone available to interpret the live feeds. I guess now that the monitoring could be automated and simply flagging up exceptions.



Saul Sherry, User Rank: Blogger
1/31/2013 | 5:08:11 AM
Re: Uprising privacy concerns

The marketing team at Partagas might be tempted.

A layer on top of this would be image recognition... what does major artillary look like? What kind of bulk does it take up when transported under cover?

Extensions on the imaging capability could detect radiation/heat levels... all more data spewed into a huge stream.



Keith.Grinsted, User Rank: Petabyte Pathfinder
1/30/2013 | 6:20:26 PM
Re: Uprising privacy concerns

@legalcio yes, that does look dodgy behaviour! And, yes, there are similar locations in UK where that action would result in closer attention from the 'boys in blue'!!

if you are doing that regularly then that can be recorded. So whilst subjective at first, by the time you have done it a few times, and it has been recorded, then predictive is the next step. And who may be interested in the fact that you'll be standing outside smoking at a certain time?

Who'' pay for that info?



Keith.Grinsted, User Rank: Petabyte Pathfinder
1/30/2013 | 6:09:45 PM
Re: Uprising privacy concerns

@Will the missing children thing has been done before. I worked in the telematics sector a few years ago and there were several systems that made it to market.



One was an RFID based system for nurseries and the like. Similar to the tags in stores that set off those buzzers by the door! It triggered a warning if the child went near or through a door they shouldn't.

Another system that does not seem to be around anymore used GPS tracking built into a rucksack or schoolbag of some sort.

The technology is there - we just don't use it!



netcrawl, User Rank: Petabyte Pathfinder
1/30/2013 | 5:24:23 PM
Re: Uprising privacy concerns

Interesting topic! nice very informational! Business data and personal data are different, the big reason is privacy, it's not a news tory anymore.



legalcio, User Rank: Exabyte Executive
1/30/2013 | 5:23:30 PM
Re: Uprising privacy concerns

I agree @keith, we gave up privacy a long time ago, but with that in mind, what's another stream of data? Video is about capturing the moment, so in one sense the benefits are purely reactive, and not predictive. To be predictive you also have to be subjective, and that's where privacy gets dicey. Every night I stand in my driveway and smoke a cigar. Is it normal activity or am I acting suspiciously? If I'm black and in the Bronx the NYPD could assume the latter.




Latest Archived Broadcast
The Big Data Conference and Nemertes Research have teamed up to provide expert advice on building a big data team and finding the right leader. Join us on Tuesday, Aug. 20.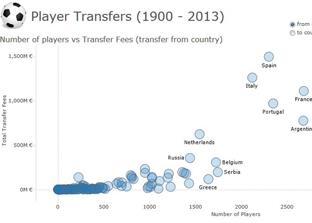 A great visualization of transfer fees leads us to think of deeper sporting analytics.
Explore this data here.
More Data Visualization Showcase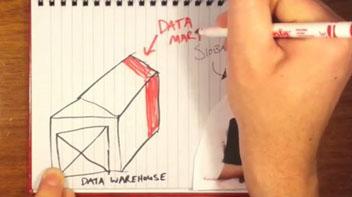 Use this video to explain quickly to someone the difference between a data warehouse and a data mart.
Watch This Video