At the moment, big data is in a massive discovery phase, and luckily, social media is playing a huge role in sharing big data insight, ideas, and information. To acknowledge this fact, we are launching the #bigdata100 twitter campaign to find the most influential, whimsical, and useful tweeters on everything big data -- and we need your suggestions!
Who is worth following?
The aim of #bigdata100 is to find out who we should follow; who cuts through the noise and hype surrounding big data and delivers real and usable information. Who out there is providing maximum value for their 140 characters?
To let us know who is worth following, simply click below to use this prepopulated tweet:
We will then add your nomination to the list below (we've put some of our favorites in there to get things started). Check back in to see where your nominations rank (or if you make the list yourself).
The campaign will close at midday GMT on April 15 -- with the final #bigdata100 announced in the Big Data Briefing newsletter on April 16.
We'll assemble some of the greatest big data minds to judge the list down to the 20 twitter handles you can't afford not to follow.
The Big Data 100 List

— Saul Sherry, Editor, Big Data Republic

technetronic, User Rank: Blogger
4/30/2013 | 7:33:35 PM
Re: Another interesting use of these social scores

I think it's a ploy for Bing to increase *it's* clout by riding Klout's "star" (quoted because I don't trust online social-value metrics)

We're in early stages and that's where the most risk lives. A little information can be dangerous and when employers (me) are making decisions with information *I believe* to be accurate, that's a big difference than knowing.



TomHCAnderson, User Rank: Bit Player
4/16/2013 | 2:24:08 PM
Re: Another interesting use of these social scores

Look forward to following/getting to know you guys



Saul Sherry, User Rank: Blogger
4/4/2013 | 8:01:03 AM
Re: Another interesting use of these social scores

Wow, Bill. That's kind of spooky. I guess now though people will know more readily that they are being judged!




UKjontech, User Rank: Bit Player
3/31/2013 | 2:49:08 PM
Re: Great idea!

Cool idea - can't wait t see the final list!



DataNerd, User Rank: Petabyte Pathfinder
3/28/2013 | 2:36:19 PM
I wish all young data people success

I wrote specifically to parents because I was a single Mom raising two boys and working my way through College but yes, I wish I could inspire all young people and let them know that math and science are worth it, yes even the formulas :)

There is such a shortage of STEM people that I encourage anyone thinking about Data Science or Mathematics, Engineering or Computer Science to hang in there, classes are tough and you may fail a few - I hated Diffy-Q but I did managed to pass the second time around!

So my message is to NEVER give up, even if you fail you still learned what NOT to do, so the next time will be easier. I always say have plan B, currently I am on plan M so take my advice the next time life throws you a curve ball, dust yourself off and try again! Good luck to all :)



technetronic, User Rank: Blogger
3/28/2013 | 2:12:34 PM
Re: Take off the scoring, it is ruining the list

It's great that you shout out to the parents of our world...I cannot imagine what a challenge it can be. But I do know that for my generation (mid 20s to mid 30s), we need the inspiration too, that it can change over night, with persistence and the 'luck' that comes with putting yourself out there.



DataNerd, User Rank: Petabyte Pathfinder
3/27/2013 | 8:26:13 PM
Re: Take off the scoring, it is ruining the list

Thanks and on a side note, Shout our to the single Mom's and Dad's out there, working, going to school, keeping the house AND taking classes, not eating so the kids will have plenty - One day,you're counting out pennies for gas, the next year you're putting a down payment on a house - NEVER give up! (that was me 1998, my life changed with 1 phone call) Math ROCKS!

There is money in data, why do you think they call it MINING "What can your data do for you?"

Thanks for the link, I'll see if I can change a few things on my schedule, would love to come but pretty busy until May. Thanks for the compliment :)



Regards, Carla




DataNerd, User Rank: Petabyte Pathfinder
3/27/2013 | 8:24:26 AM
Re: Take off the scoring, it is ruining the list

My pleasure to be involved with such great people - I totally agree that the ladies are not being properly represented but the fact is that women are scares in this field and others STEM fields. one reason I take time away from my business to Tweet/Post... and talk about my struggles is to show other women that it CAN be done! Thanks for sharing the Girls Who Code link and Ladies, we know this is a male dominated field but you have just as much right to be here as the guys - so speak up and make your voices heard!

Congrats to everyone on the list and remember - Being powerful is like being a lady. If you have to tell people you are, you aren't. Margaret Thatcher

Regards, Carla




Latest Archived Broadcast
The Big Data Conference and Nemertes Research have teamed up to provide expert advice on building a big data team and finding the right leader. Join us on Tuesday, Aug. 20.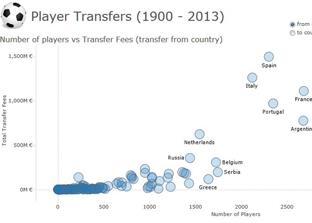 A great visualization of transfer fees leads us to think of deeper sporting analytics.
Explore this data here.
More Data Visualization Showcase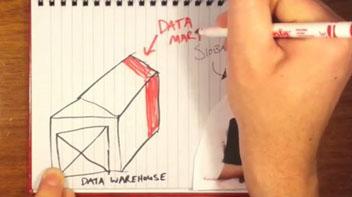 Use this video to explain quickly to someone the difference between a data warehouse and a data mart.
Watch This Video