Slowly, ever so slowly, medical data will find itself freer to be exploited in the pursuit of efficient healthcare.
We see this progress everywhere. My parents' generation would have been aghast at having any fewer than three television channels, and my kids (when I get round to having them) will most likely be aghast at even the concept of a "channel", so acquainted they will be with a constant stream of content pouring out of whatever kind of fully interactive, 3D, fully portable entertainment station I have to shell out for on their fourth birthdays.
I digress. The point is, it's easy for us to get hung up on regulations as they currently stand. Especially when we think of healthcare, which finds itself on a bank of treadmills next to retail and financial services, all running at top speed while we limit healthcare's machine to the lowest speeds, patting it on the back, and telling it it is for its own good.
The generational data urge
But if regulations represent the wishes of the people, the next generation already wants something different to us.
"If you think about it, it wasn't that long ago people were hesitant to put their credit card details on the web," Murray Rode, chief operating officer at TIBCO Software, told me last month during Tucon 2013. "But we got to a point with security, with controls, with usage, with the way credit card companies behaved that people got comfortable that they could conduct commerce that way. While that's a much simpler cultural case than what we are discussing with healthcare, all of these things do evolve with time."
The big data similarities between retail and healthcare
Murray feels that this analogy with retail can go further, as retailers have been big on data mining and understanding the statistics of their business for a while now -- with a recent dramatic expansion in the way retailers have gone after leveraging that data, collecting more of it and operationalizing it:
That new generation of consumers is a little freer with their information, we will have to see how that plays into this whole debate. I also think it's pretty important for individuals to feel their healthcare data is safe and has a level of anonymity and governance around it. This will get worked through, in a similar way to the way we worked around it on online retail.
This generational shift is universal in the big data space, you may remember my discussion with Jim Kaskade, CEO of Infochimps, in
Your CEO's Age Kills Big Data Progress
where we determined the quickest way to find big data results in your business is to get younger generations into high ranking positions.
Leave those poor regulations alone
So the general power of what the customer (or voter, when it comes to regulations) wants is pushing change, but another chat I had at TUCON, this time with Matt Quinn, CTO at TIBCO software, led me to think I'm being a bit hard on regulations, certainly in the US where the pressure on getting the health care system efficient and affordable is reaching heart attack levels. Matt told me:
In a global context the healthcare industry has experimented with some of this stuff over the last 20 years; statistical protocol controls and managing the business of healthcare. That gets talked about in terms of rising healthcare costs and the aging population -- the emphasis is on getting more and more out of the information we have so we can optimize the resources we have.
And so, like our evolving perceptions, Matt thinks healthcare regulations have the potential to create a bright future for the analysis of medical data:
Regulations can have two impacts, they either stifle everything or spur things on. In health care I think people are looking at these new regulations as an opportunity to do things differently - and to think about specifically big data very differently to how they have done in the past.
What do you think? Are we standing on the brink of freer medical data, or on the cusp of more draconian measures locking actionable insight away?
Related posts:

AlphaEdge, User Rank: Exabyte Executive
11/30/2013 | 10:43:44 PM
Re: Good news, bad news

Can you provide some use cases in retail and ecommerce of using big data? Interested in looking at them.



Pradeepta Mishra, User Rank: Exabyte Executive
11/30/2013 | 7:20:29 AM
Re: Good news, bad news



The retail and ecommerce industry has already started using the big data and they have already started realizing the ROI to come extent. The potential challenge with healthcare sector data is that security and privacy concern. Though it was with retail but the solution we are seeing now takes care of all the issues. The analogy between retail and healthcare is very much pertinent. In future there will be some major players who will definitely turn the fate of healthcare by implementing big data projects.



Saul Sherry, User Rank: Blogger
11/28/2013 | 5:54:06 AM
Re: Good news, bad news

Rodney, sounds ideal for the medical envioronment - and probably better for connectivity issues in those older buildings as well. Reading a doctor's handwriting should be a thing of the past (but I can't vouch for their typing being spot on)



Rodney Brown, User Rank: Bit Player
11/27/2013 | 1:26:49 PM
Re: Good news, bad news

Saul, I like the idea of space-restricted usage based on something like NFC, but I think the newer Bluetooth Low Energy might be a better solution. It has a longer range than NFC (therefore able to handle the older buildings better in theory) and can handle a tougher level of encryption.



Saul Sherry, User Rank: Blogger
11/27/2013 | 9:38:48 AM
Re: Good news, bad news

So the cloud is a potential solution here - simply having the mobile device as a means to input to and access the bigger database - security is key but fingerprint unlock, NFC (device only works within the hospital space etc etc) can come into play as a solution set.

I think a big issue may well be the structure of these hospitals - newer ones, probably fine. But those old, conrete, creaking structures... will signal work?



Scott Ferguson, User Rank: Bit Player
11/26/2013 | 9:25:58 AM
Re: Good news, bad news

@Saul: A good point about mobility, but the issues is security, essentially someone walking out of a hospital with someone's data, which puts you at huge risk. You can have mobility, but all the data has to be centrally managed and accounted for, otherwise it's not going to work. Plus you need to think about hardened tablets and smartphones, the iPad doesn't work in an ER without a special case.





Scott Ferguson, User Rank: Bit Player
11/26/2013 | 9:23:26 AM
Re: Good news, bad news

@Jim: Thanks. I sat through a talk one time with Paul Maritz, who knows something about big data and what it takes to store huge amounts of data, and he noted that health care is the only industry that has not yet fully moved away from paper. The underlying part of the talk is the push toward EHR may spur the industry on, but there is a need for standards. Almost all hospitals and clinics are independent and use their own systems. You will eventually need an adopted, universal standard for collecting and distributing data.



Susan Fourtané , User Rank: Blogger
11/26/2013 | 7:55:43 AM
Thanks!

Saul,

Great article.

Thanks for sharing with us insight from your days at TUCON. Healthcare is, and will continue to be a big sector where data will keep on playing a very important role in decision making, and changes.

-Susan



Susan Fourtané , User Rank: Blogger
11/26/2013 | 7:20:22 AM
Re: Good news, bad news

Ahh, James, is back. :)

I was wondering about you as I haven't seen you around the BDR's world for a while. I suppose we are still to hear about the Big Data conference in Chicago?

"The irony is that they write everything on paper and then transfer it to a computer (if they can read their own handwriting)."



True. And let's not even start wondering about the mistakes made if a nurse happens to be the one reading the the illegible handwriting to transfer that data to a computer. How much missing information would it be possible to find?



"Yet, their sector was among the first targeted by tablet makers maybe 15 years ago."



Yes, and in some healthcare institutions they have at least done a good job adopting tablets in the recent years.





Are you saying there is someone still using fax machines? O.O I have already seen them in a museum. Really. Together with typewriters, and some old phones and computers. No one uses fax machines around here any more, to my knowledge. Scanners have replaced fax machines long ago.





-Susan









Saul Sherry, User Rank: Blogger
11/26/2013 | 5:41:59 AM
Re: Good news, bad news

@legalcio - as one pulls, so does the other. We notice a similar thing here in the UK with utility firms - they announce biggest profits ever, then hit all customers with a 10% price hike, pointing the finger at the government implemented Green taxes.

As you say, their aim is to make money by keeping people warm... not just keep people warm...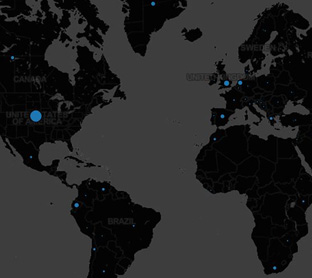 Tableau visualizes global tweets focusing on a cure for Malaria.
Explore this data here.
More Data Visualization Showcase