By revealing market trends, patterns, and other indicators hidden deep inside big data, data scientists can help enterprises create opportunities, maximize revenue, and stay a step ahead of their competitors. How do you get your hands on one?
Data scientists help companies maximize revenue and stay a step ahead of their competitors. But good data scientists are hard to find, and the bad ones aren't worth the effort it takes to hire them. Finding a qualified, affordable data scientist isn't easy, but looking in the right places and carefully scrutinizing candidates helps.
A 2011 study conducted by the McKinsey Global Institute, the research branch of the global management consulting firm McKinsey & Company, identified big data analytics as a vital ingredient for business competitiveness and growth. Data scientists are the experts that can make big data synergy sizzle. By combining advanced data insight with business acumen, a data scientist can have a powerful positive effect on enterprise revenue and growth. The McKinsey research reveals, for instance, that data scientists can help data retailers (firms that amass and sell marketing information) increase their margins by up to 60 percent. The healthcare industry can expect to save $200 billion per year with the help of data scientists.
In demand
Data scientists help businesses exploit massive amounts of data and make tactical and strategic decisions in marketing, sales, and other important areas. They are also expected to help their enterprises develop long-term business plans based on deep and insightful intelligence.
There's little doubt that a data scientist is well worth the cost. Yet other enterprises have come to this same conclusion, so finding a qualified data scientist can be something of a struggle. Still, now may be the best time to act, since the demand for data scientists is likely to continue rising for the foreseeable future as more businesses recognize the need to hire big data analytics experts. McKinsey estimates a shortfall of 140,000 to 190,000 people with analytical expertise by 2018.
The current data scientist shortage is rooted in the fact that only a relative handful of people can excel at both advanced data analytics and business concepts. Important attributes in a data scientist include a solid knowledge of business management practices, the talent to apply sophisticated data models to real- world business situations, and, perhaps most importantly, an intense curiosity about and passion for playing with data. A data scientist should also be able to engage with employees and management and to be a project leader.
Where to look
Good places to scout for data scientists are science and tech-oriented employment websites, such as Dice, along with business-oriented social networks like LinkedIn. Many organizations also turn to an executive search firm to find and pre-screen candidates.
Does anyone have other resources for finding data scientists? Or, to the data scientists reading this, how were you found?
Related posts:
— John Edwards, Technology Journalist

AlphaEdge, User Rank: Exabyte Executive
1/15/2013 | 4:57:24 PM
Re: The shortage cometh

Data scientist should be a combination of database knowledge, development, data mining, and analytics. If I say current talents need focuses too much on development as big data infrastructure has to be set up first, do you guys agree? Data scientist should not be a big data developer although the current demand do show this trend?



mharden, User Rank: Exabyte Executive
12/26/2012 | 4:11:08 PM
Re: The shortage cometh

I wonder how well the skills of a DBA who is use o a well-defined highly structured data translate to the unstructured, flat-file part of the big data world. Although, if the individual comes from a data warehouse background how would that transition be? Has anyone seen those skills make the transition to big data?



Ariella, User Rank: Blogger
12/14/2012 | 11:07:29 AM
Re: The shortage cometh

@Technetronics You cover a lot of important points in your comment, and I couldn't agree more. When people are only willing to hire those who have already done exactly what the job entails, they are cutting off the possibility of someone whose experience is not exactly the same but who has the ability to learn and adapt to new technologies. The second one can prove to be the better bet in the long term because whatever is in place now is not likely to be in place 5 years down the road.

As for salaries, that's what I typically see for colleges grads who seek jobs for humanities majors (even in NYC where that will barely cover rent in one of the less fashionable boroughs). IT jobs sometimes offer a bit more, but the rates have fallen, so that someone who was making 6 figures before 2008 is now earning 35% less than that for the same type of job -- despite increased experience.



technetronic, User Rank: Exabyte Executive
12/14/2012 | 10:59:03 AM
Re: The shortage cometh

I agree that there has to be a better way to teach technology. It's a combination of the technology itself but that changes every quarter, it seems.

The way to teach would be to teach a way to think. I'm going to be cynical and say that most organizations that I've seen are not willing to make the financial investment in new employees with potential.

The NYTimes covered companies like Marlin Steel and Wire but hey -- if they're having such trouble filling skilled labor, I wonder how much they're actually paying to attract workers.

I think it's a two-way street: I know many employees who'd rather sit it out than work for a company that's going to take all of their time with little compensation. Companies are not willing to hire people who don't already have well-rounded skills, both hard and soft skills.

Can you believe that $35,000 is *still* the starting salary coming out of college? That's what it was when I got out of college almost eight years ago!



MDMConsult, User Rank: Exabyte Executive
12/12/2012 | 5:28:06 PM
Re: The shortage cometh


Education and universities have to better improve the ways of "teaching" technology. If the "real world" approaches could be instilled as equally as formally educating students in IT students would be better prepared for our workforce today, for the future. Today it is important to be adaptive, multi-skilled in business, math, statistics, data, etc. Organizations and Educational Institutions should strengthen programs, training.




emily_stats, User Rank: Bit Player
12/12/2012 | 8:43:34 AM
Re: Train them first

indeed data analysis skill from one industry is often transferrable to another



SharCo, User Rank: Bit Player
12/11/2012 | 5:09:23 AM
Re: Train them first

Anna, true, the skills need to be learned, developed, and honed through application. It seems like many firms need data scientists now, with big data booming and all, so it is also understandable that they are looking for people who don't really have all the necessary skills or talents needed to really excel at the job.

I think that they are trying and the people are trying; it's probably only a matter of time before people can actually catch up with the demand.



SharCo, User Rank: Bit Player
12/11/2012 | 5:06:35 AM
Re: The Sexiest Job of the 21st Century

Thanks for the link to the article, Daniel. I'd say it's about time and it's interesting to see that many companies now see the need for data scientists so they can use the current data that they have better.



Daniel Gutierrez, User Rank: Blogger
12/10/2012 | 1:18:28 PM
Re: The Sexiest Job of the 21st Century

Having data science so readily acceptable today is something I've awaited a very long time. I've been a member of ACM's SIGKDD and SIGEVO for ages. I remember studying the early theory behind for support vector machines (a popular classifier algorithm) back in 1998 with Vapnik's "Statistical Learning Theory." Just 10 years ago, data mining and OLAP solutions were a hard sell except in the largest companies. Now acceptance for machine learning is wide and large, including startups. So my experience is sort of like a musician that's been doing gigs in dank, dark bars for years and suddenly finding a vastly growing audience of appreciative fans. The hard work has been worth it. The hazard is that too-much-hype is rarely a good thing and the acceptance we're seeing today must be tempered with thorough consideration.



Saul Sherry, User Rank: Blogger
12/10/2012 | 12:59:31 PM
Re: The Sexiest Job of the 21st Century

Is it something you had seen coming Daniel? Or does this new found elevated position take you by surprise. And (although you might be biased here) do you justify it??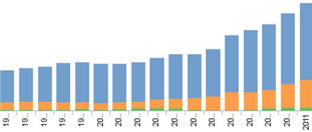 This Tableau visualization of international debt demonstrates how simple visualizations can give great insight
Explore this data here.
More Data Visualization Showcase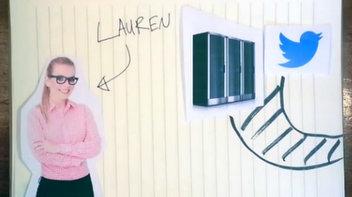 OK, so it's Extract, Transform and Load - but we'll show you what it really means.
Watch This Video