Fiction's greatest detectives, guys like Sherlock Holmes, Sam Spade, and Hercule Poirot, all came from different backgrounds. Yet they also shared an important attribute: sharp analytical minds and an almost uncanny ability to knit tiny snippets of evidence into ironclad cases.
Few real-life crime investigators possess the case-solving abilities of a fictional master-sleuth. Yet the gap is rapidly narrowing as big data-fueled analytical tools help investigators worldwide by analyzing past events, detecting trends and patterns, and pinpointing commonalities and correlations. Such powerful technology allows crime fighters in communities of all sizes to work faster and smarter by supplying crucial connections that would have previously taken days, weeks, or months to assemble.
Real-world tools
The latest big data tools available to law enforcement organizations provide data collection and analysis capabilities originally designed for use by the military and intelligence agencies. Textron Systems' Impact software, for example, enables police analysts to collect and study text, imagery, signals intelligence data, and various other types of information. The product also provides text extraction, case development, and collaboration tools that are designed to promote efficiency by eliminating time-consuming and redundant tasks. Federated and fuzzy search capabilities enable users to simultaneously reach multiple databases with a single query, delivering relevant results even on incomplete or misspelled keywords.
IBM is also a major player in the law enforcement big data market, offering agencies its SPSS predictive analytics software and i2 COPLINK database application, which consolidates policing data, provides data analytics and visualization tools, centralizes multiple data stores, aids collaboration, and helps generate tactical leads.
The Charleston Police Department in South Carolina, for instance, is using IBM tools to help its approximately 400 police officers to more accurately evaluate and forecast crime patterns. According to IBM, the department is using predictive analytics software to better allocate its resources and identify criminal hot spots to prevent crime and increase public safety.
Morphotrak is another company offering a line of big data-oriented law enforcement software tools, including a biometric identification system that integrates fingerprints, palmprints, face images, signatures, descriptive, and other data. Morphotrak also offers an archive service that allows investigators to quickly search all relevant image records and associated case documents. The system, which permits data interoperability, uses Oracle Database 11g to support both clustering and private clouds.
Tight budgets
While a growing number of police organizations would like to be able to use sophisticated big data tools to help solve crimes, their plans are often hampered by funding shortfalls, the result of deficit-fighting government austerity programs. That's a shame, since big data analytics provides significant long-term savings by speeding investigations, getting more criminals off of the streets, and allowing scarce police resources to be allocated to other pressing tasks.
Related posts:
— John Edwards, Technology Journalist

Saul Sherry, User Rank: Blogger
1/7/2013 | 6:21:15 AM
Re: Big Data & Crime Investigation

A very admirable view point @SharCo - but it's never that straight forward. Budget in one area saving lives will take away from another budget focused on saving lives. It's a horrible fact, but there will be an equation somewhere that says based on our budget, we can more lives here by not protecting somewhere else. The way data behind this is used can help us to optimize results - but it won't be the silver bullet.



SharCo, User Rank: Petabyte Pathfinder
1/6/2013 | 12:18:52 PM
Re: Big Data & Crime Investigation

What is a hefty pricetag, really, when the lives of people and their safety are at stake here? I don't suppose we could really put a price tag to determine the value or worth of a person. I think budgets should be drafted to set aside funding for this technology because it is for a very worthy purpose.



Saul Sherry, User Rank: Blogger
1/4/2013 | 5:22:40 AM
Re: Crime Fighting

Very true @SharCo but you will never alleviate people's fears completely. Those mistakes will ring alarm bells among privacy groups, who will push back even harders. The thing to remember is that we are making more of those mistakes without using this technology.



Saul Sherry, User Rank: Blogger
1/4/2013 | 5:21:10 AM
Re: The evolution of COMPSTAT

@Anna I've seen demonstrations of street lights being conntected to a network, so the police can see when lights go out and target that area as a potential scene of increased mugging etc... I'm not sure of the civic siutation there, but maybe the police have better response times than the guys who fix the street lights...



technetronic, User Rank: Blogger
1/2/2013 | 1:30:34 PM
Re: The evolution of COMPSTAT

There are two challenges that law enforcement faces and they are mostly separate.

One is managing non-professional crime - how do you enforce and maintain the general peace.

The other is tackling professional crime - the people using data and in-world social engineering to knock off big jobs.

Allowing that sometimes that distinction is hard enough to determine, law enforcement, on behalf of the public, needs to be set on very specific and context-sensitive goals with clearly defined end-points or milestones. The risk in abuse comes in legal ambiguity, which leads to applied flexibility and can open the door for moral and ethical flexibility, depending, as usual, on the officers and adminstrators involved.



technetronic, User Rank: Blogger
1/2/2013 | 1:26:41 PM
Re: The evolution of COMPSTAT

The big distinction in data is behavioral versus prescribed.

Prescribed data is your DOB, SSN, and everything you put on the web voluntarily.

Behavioral is the rest of the data that you generate without necessarily wishing to...I may walk ten blocks and my cellphone may be checking in with cell towers along the way but I don't necessarily want to share that information, even though it's been captured.

How we treat each needs to be socially defined. Advertising behavioral data is currently self-regulated through things like AdChoices. How governments use and access behavioral data have no clear guidelines as far as I can tell.

Suspicion is another level usually determined by court precedent, as you probably know, and the digital world probably won't be different in that regard. Digital behavior should be seen as very separate from real-world behavior because it's so easy for curiosities to be explored online (as it should be).



Saul Sherry, User Rank: Blogger
1/2/2013 | 12:16:46 PM
Re: Big Data & Crime Investigation

In that case, successful big data projects in this space might come down to an arbitrary fact, like how long a budget cycle is



alvb1227, User Rank: Petabyte Pathfinder
12/31/2012 | 9:04:59 AM
Big Data & Crime Investigation

Excellent post. I completely agree that these technologies, while have the appearance of a hefty pricetag, in the long run, they save both time and money for law enforcement. Plus (and much more importantly) it helps to get criminals off the street. Much like @Ariella's post "National Security in Big Numbers" this is a perfect example of much more than a financial ROI.



Ariella, User Rank: Blogger
12/30/2012 | 10:23:52 AM
Re: The evolution of COMPSTAT

@technetronic Good point, but how can that be done?



Daniel Gutierrez, User Rank: Blogger
12/28/2012 | 7:11:06 PM
NUMB3RS

This topic reminds of a favorite TV crime drama show of mine: NUMB3RS which aired for 6 seasons (2005-2010) on CBS. I loved that show because it was based at Caltech (in the show it was called CalSci) and all the crimes were solved by a math genius professor character Charlie Epps. In most episodes, he'd use these clear glass marker boards to write all sorts of cool formulae and use data mining techniques. I'd use my TIVO to freeze frame when they did a close-up of the math, and it was mostly pretty accurate probability theory. The show had good math consultants, mainly Wolfram Research (the makers of Mathematica). There's even a book entitled The Numbers Behind Numb3rs: Solving Crime with Mathematics (ISBN 0452288576; published August 28, 2007)

One day I was having dinner at Pie N Burger near the Caltech campus and David Krumholtz (Charlie Epps) walked in to grab a bite. I enjoyed telling him that as a data scientist how much I enjoyed his show!




Latest Archived Broadcast
We discuss the best internal setups to make sure the right sets of eyes are watching the data development.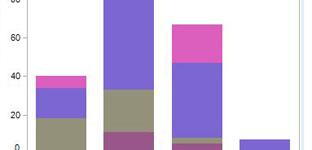 Survey results show bigger companies still confident in spite of massive IT overhaul requirements.
Explore this data here.
More Data Visualization Showcase