Last week, in Hadoop 2.0 & Beyond: Bypassing MapReduce, we discussed how Hadoop can be made quicker and more useful, but the second development on the horizon is even more radical.
Reinventing Hadoop
This second development is best summarised by Hortonworks' announcement of the Stinger Initiative last week claiming to make Hive 100 times faster utilising and introducing new core Hadoop technologies. It could result in a near-BigQuery-style performance for a wide range of Hadoop users. That would enable ad hoc and interactive data querying for large datasets, something that requires sophisticated, large, traditional data warehouse setups. Hadoop clusters would instantly solve a highly significant use-case in many companies and potentially become dual use.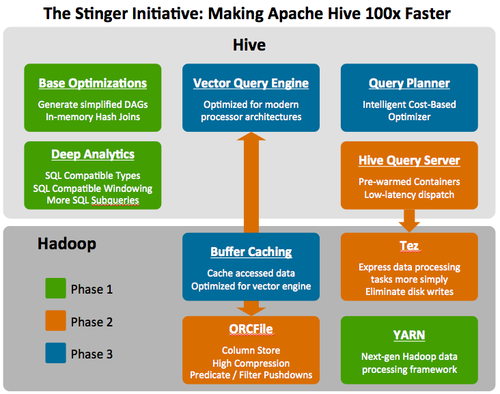 The core parts of the Stinger roadmap are the adoption of MapReduce 2.0 in the form of Apache YARN, columnar data storage, and Apache Tez. YARN splits the current rigid Jobtracker into a ResourceManager and ApplicationMaster. They can manage resources like CPU, RAM, and network capacity flexibly across a cluster and for many parallel running applications. For example, a CPU-intense and a memory-intense application could run in parallel on the cluster utilising each node's CPU and memory optimally instead of relying on the current rigid, suboptimal map-and-reduce slot framework.
Corona
An interesting development is the release of Corona by Facebook as an alternative to YARN. Corona is proven to work reliably at the upper end of scalability needs. YARN is API-compatible with current MapReduce jobs and is already being delivered with Cloudera's latest distribution (for testing purposes currently, not production). It has to be to see whether YARN or Corona will take over the market or if they will split the market between them.
Apache Tez
Apache Tez highly optimises data processing applications, e.g., output of a Hive query or Pig program, by replacing the current paradigm of modelling every application as a directed acyclic graph of multiple MapReduce jobs. Currently, each job requires IO synchronisation and time and resources to be started and managed. Tez can express these applications as a single job with a directed acyclic graph of map-and-reduce tasks in arbitrary order -- for example, a reduce task can feed directly into another reduce task without a (dummy) intermediate map task, IO synchronisation, or overheads for a new job. Lastly, ORCFile, proposed by Stinger as a columnar storage, can dramatically speed up and reduce the data needed to access for an application.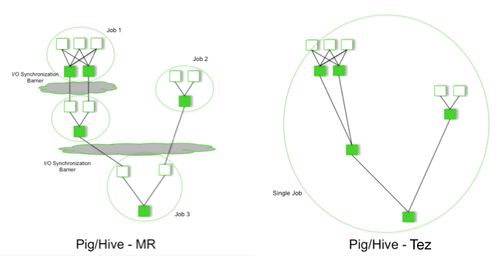 Together these improvements will change the way we perceive and use Hadoop. YARN (or Corona) as a cluster management framework will open Hadoop to many new data processing paradigms. The query acceleration in Hive and Pig makes Hadoop an option for interactive data processing and warehousing, and lowers costs on existing use-cases.
These changes will become part of production systems in the next couple of years, so I am expecting some interesting developments spinning off along the way. At the same time I am not discounting Impala and Drill. They are more focused in their applications and promise even greater performance gains. Hadoop is to here to stay, and there are exciting times ahead.
Related posts:
— Christian Prokopp, Data Scientist, Rangespan