It might just be time to simplify your business's approach to data.
Too much of a good thing?
For a number of years, organizations have focused on the ingestion of data and content into systems focused on enterprise resource planning, enterprise content management (ECM), customer relationship management (CRM), enterprise data warehouse (EDW), and supply chain management (SCM), among others. But all of that data ingestion is starting to cause indigestion for IT managers and C-level executives who now find themselves with a plethora of information and no clear answer for the question of how to obtain value from it all.
With all due respect to Mae West, too much of a good thing isnít always wonderful. In fact, it might be a bad thing.
For those who are faced with the challenges of this big data dilemma, there are winning strategies for unlocking the value of data and maximizing its potential for shaping smarter business decisions both internally and externally.
The fundamentalists: Finding the value of my data for my organization.

There are all types of bytes of data that are stored within our information capturing systems, from giga to tera, peta, zeta, and many other prefixes that I wonít pretend to be able to pronounce properly. What is clear in all of this is that there is a lot of data, some valuable and some not. Sorting through that sea of data is the challenge of the day, and finding what will actually help to drive and steer decision making within an organization is something that needs to be addressed sooner rather than later. One approach is to clearly identify the core enterprise-level metrics that the company will look to achieve over the course of a fiscal year (normally in the range of four to six), and then establish the causal mappings that deconstruct those enterprise-level metrics into foundational or baseline metrics, from which we aggregate behaviors and results into the enterprise goals (normally in the range of several dozen). This approach allows us to understand what baseline information both has an impact on the specific enterprise metrics by which we measure our success and also satisfies the fundamentalists, who can clearly determine that the value of information is being achieved through the behaviors and decision-making processes that utilize all of the captured data and content.


The innovators: Building a consortium with my peers and competitors.

To understand clearly the value of captured information outside of an organization, we need to think about the ecosystem of partners and vendors with whom we integrate on a consistent basis. What products or services do they provide to us? Who are their customers and vendors? How might we find beneficial ways of sharing data and content to enhance the analysis and interpretation of our customers, our products, and our services to gain a competitive advantage? Sure, you can buy data and content from numerous providers -- and get even more from free repositories -- but who is ready to start sharing the really good stuff?
How much would point of sale (POS) data from a convenience store allow you to better understand buying habits of customers who use your products? What about having access to a broader set of industry-specific content that helps you clearly determine what your competitors are doing that is making them successful? How about the ability to look up and down your business-to-business and business-to-consumer commerce chains and form consortiums where information is shared across industries and domains to provide the kinds of unique insights that allow for competitive differentiation?
Cross-industry insight
For example, If I were a publisher of outdoor adventure content (magazines, websites, videos, etc.) who tailored my marketing campaigns towards those who lead a more active lifestyle, what information could I use from the automobile industry based on consumer purchases (i.e., pick-up truck buyers who tend to lead more active outdoor lifestyles) to sell more of my content? The reverse of that is also true -- how many more recreational-style vehicles could I sell to consumers who enjoy outdoor adventure content? How can I predict when best to market my products based on segmentation analysis of those consumers? This creates the ability to combine insights from two different industries, both with a wealth of information, to create a competitive advantage and obtain more profitable outcomes. Subsequently, the innovators need an analytics platform and also cross-pollinated information that at first glance may not seem to be connected, but when researched and evaluated, provides invaluable insights.
The use cases are endless, but the bottom line is that every company is holding onto a diverse repository of information that can provide invaluable insights into the company's performance and behaviors, as well as shareable information that can help to establish a broader competitive advantage within and across industries through analytics.
Will you be the realist, the dreamer, or both when strategizing on how to get value out of your data?
Related posts:

smkinoshita, User Rank: Exabyte Executive
9/9/2013 | 11:22:25 AM
Re: B2B Big Data

@Saul Sherry: Unfortunately I think we'll still be having conversations about siloed data for some time. It doesn't always happen on purpose, as sometimes the data only gets siloed because nobody feels they have time to share. Sort of the same problem with documentation, eh?



Saul Sherry, User Rank: Blogger
9/3/2013 | 5:13:21 AM
Re: B2B Big Data

Sigh... I wonder how long we will be having the conversation about siloed data @smkinoshita - it seems for most organisations, the real enemy when looking for real insight isn't in fighting tech or competing with competitors - it's in fighting themselves.



Saul Sherry, User Rank: Blogger
9/3/2013 | 5:09:46 AM
Re: Who we are forgetting

Given @AlphaEdge's comments here, I would imagine it's down to the protective nature businesses have over their own data.



Pradeepta Mishra, User Rank: Exabyte Executive
8/30/2013 | 6:00:51 AM
Re: B2B Big Data

I think both a dreamer and realist. As dreamer one can visualize things and set the expected outcome or value from the data and then as a realist one would try to pull the relevant information as per the expectation set earlier. Sometimes so much information is difficult to process so the person has to be well equipped to know and understand the information value to be extracted from the data.



chris.had, User Rank: Bit Player
8/29/2013 | 6:02:36 AM
Re: Who we are forgetting

@Alpha: Why is it difficult ? Any reason where you can elaborate please ?



James M. Connolly, User Rank: Blogger
8/28/2013 | 9:23:55 AM
Re: B2B Big Data

@smkinoshita. You're right, looking internally at data and breaking through siloes is a first step. What you already know about customers is your most valuable data, and it helps you to keep existing customers happy and, perhaps, active in the buying process. Personally, I'd put partner data and social media data in the next phase. Both can be used to tap new customers and to solidify the relationship with existing customers. Social media data also is a valuable tool in identifying problems with products and services, and weaknesses in your marketing efforts.



smkinoshita, User Rank: Exabyte Executive
8/28/2013 | 12:50:12 AM
Re: B2B Big Data

Finding potential customers in social data is a very different experience. I haven't done much in that realm beyond the small scale, but you'd be surprised at what key words will trigger results. (Mentioning a "vegetarian day" struck a sudden, unexpected wave of support).

One thing to note that sometimes an organization's data can be quite siloed, so trying to collect the meaningful data from within can be very much like collecting it externally. I would think in the case of silos, the organization needs to look within first.



dcawrey, User Rank: Exabyte Executive
8/27/2013 | 4:30:49 PM
Re: B2B Big Data

There is so much value in the data described here as a way to increase sales and marketing performance that it really is kind of hard to wrap one's mind around. This is where the data scientist, I think, can play a huge role.

I don't really regard them as scientists as much as big data professionals who are akin to detectives, finding out realities with clues within sets of information.



AlphaEdge, User Rank: Exabyte Executive
8/27/2013 | 9:53:20 AM
Re: Who we are forgetting

I agree. Sharing of partner data is just almost impossible in many cases.



James M. Connolly, User Rank: Blogger
8/27/2013 | 8:39:29 AM
Who we are forgetting

Greg, great points about the data that our business partners (or potential partners) may have, and how that can contribute to our big data strategy. To be honest, mentions of the value of partner data have been rare -- if I've seen any at all -- in what I've read and heard about big data in the past three years. Thanks.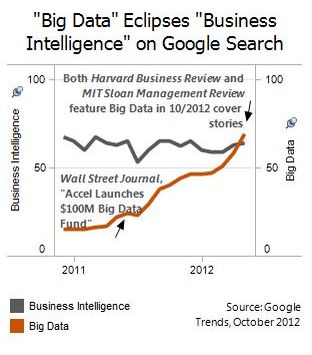 We turn to data visualization tools to focus on the world's perception of big-data.
Explore this data here.
More Data Visualization Showcase