Big data, analyzed.
Every day we are generating more data than ever, from GPS locations to chat logs, IP addresses to transaction data, telematics to voting patterns.
Smart businesses now have the opportunity to find insights in this data, spot patterns, and devise potential solutions.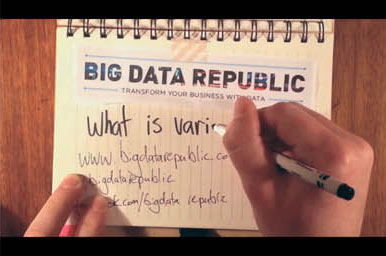 Watch the Big Data Explained
Big Data Republic aims to demystify this complex new world of data, giving you the insight you need to make the informed decisions that will give your business unfair advantage over competitors.
With an active contributing community of some of the finest minds within the big data universe, our new Website is an essential resource for useful insight and shared experience.
Join the Community
Big Data Republic is a members-only community, allowing you to network with thousands of peers, participate in forums, and share advice, experiences, and opinions.
Membership is completely free and gives you access to in-depth online education, Webinars, technical papers, research reports, and video.
Our visualization showcase will highlight the best in up-to-date visualization techniques and approaches, while our exclusive Big Data Republic Challenges will let you show us your approaches to modern data situations.
Our expert contributors share their deep and practical experience working with and pioneering the future of data intelligence.
So, let's start the conversation and continue to build out a community that is committed to securing real-world business wins through big data.
Join us today – membership is free.


Saul Sherry
Editor
Saul Sherry originally hails from the first-rate county of Leicestershire in England and currently plies his trade in that nation's capital. He is particularly interested in the ways big data can reveal to us the intelligence that lurks below the surface of the everyday, and how we can use this to improve lives.
When not writing about big data (or looking for excellent minds to do the same) he can normally be found deafening himself in one of London's fine live music venues. Other weekly highlights involve dragging himself around Clissold Park and buying books based solely on their covers.
If you have questions about Big Data Republic, or want to inquire about being a moderator or a blogger, please feel free to email: Saul.Sherry@UBM.com.