Member Since: November 13, 2012
I work in online marketing and analytics, slicing and dicing data to create more customized experiences for our target market. My end goal is to ensure that our target market only sees content they're interested in -- and to do that, we need to manage and organize our information.
Favorite Sites:
I enjoy The CMO Site, Internet Evolution, Develop in the Cloud, Educational I.T. and web comics -- the last one has taught me more about web marketing, social media and analytics than one might expect.

Machine Learning
Machine Learning is a form of artificial intelligence that can be used to automate a lot of big data processes.
Archive

Latest Archived Broadcast
The Big Data Conference and Nemertes Research have teamed up to provide expert advice on building a big data team and finding the right leader. Join us on Tuesday, Aug. 20.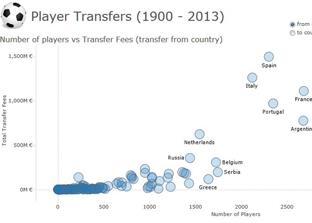 A great visualization of transfer fees leads us to think of deeper sporting analytics.
Explore this data here.
More Data Visualization Showcase