Member Since: November 1, 2012
As a technology blogger, Ariella Brown writes about analytics, marketing, branding, social media, big data, and the impact of the internet on education and society, among other topics She holds a PhD in English and has years of experience as a writing instructor. Through her business, Write Way Productions, she offers writing, editing, marketing, ad design, and social media services.
LinkedIn profile, Twitter @AriellaBrown On Google+
Favorite Sites:
http://writewaypro.net/
http://uncommoncontent.blogspot.com/

Machine Learning
Machine Learning is a form of artificial intelligence that can be used to automate a lot of big data processes.
Archive

Latest Archived Broadcast
The Big Data Conference and Nemertes Research have teamed up to provide expert advice on building a big data team and finding the right leader. Join us on Tuesday, Aug. 20.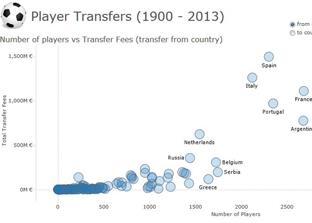 A great visualization of transfer fees leads us to think of deeper sporting analytics.
Explore this data here.
More Data Visualization Showcase