Member Since: November 1, 2012
Over 10+ years of professional emerging Internet marketing experience working in the high technology, financial, hospitality, real estate, healthcare, manufacturing, not for profit and retail ecommerce sectors. Specializations in the field of web analytics marketing & ecommerce, management consulting serving global clients from medium & large scale organizations. Within the field of web analytics, working in helping higher level organizations define there metrics strategies, create concepts, define problems, conduct web analysis, problem solve and execute. Proficient and passionate business executive; manager utilizing web analytics data to drive smart business decisions. Technology, eCommerce, Management, Consulting, Strategy.
Favorite Sites:
www.bigdatarepublic.com

Machine Learning
Machine Learning is a form of artificial intelligence that can be used to automate a lot of big data processes.
Archive

Latest Archived Broadcast
The Big Data Conference and Nemertes Research have teamed up to provide expert advice on building a big data team and finding the right leader. Join us on Tuesday, Aug. 20.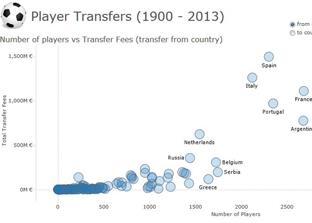 A great visualization of transfer fees leads us to think of deeper sporting analytics.
Explore this data here.
More Data Visualization Showcase