Member Since: November 12, 2012
Daniel D. Gutierrez is a Data Scientist with Los Angeles-based AMULET Analytics, a service division of AMULET Development Corp. He's been involved with data science and Big Data long before it came in vogue, so imagine his delight when the Harvard Business Review recently deemed "data scientist" as the sexiest profession for the 21st century. Previously, he taught computer science and database classes at UCLA Extension for over 15 years, and authored three computer industry books on database technology. He also served as technical editor, columnist and writer at a major computer industry monthly publication for 7 years. Follow his data science musings at @AMULETAnalytics.

Machine Learning
Machine Learning is a form of artificial intelligence that can be used to automate a lot of big data processes.
Archive

Latest Archived Broadcast
The Big Data Conference and Nemertes Research have teamed up to provide expert advice on building a big data team and finding the right leader. Join us on Tuesday, Aug. 20.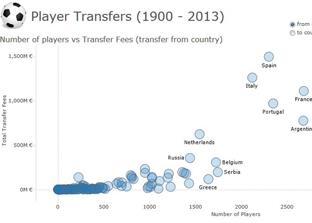 A great visualization of transfer fees leads us to think of deeper sporting analytics.
Explore this data here.
More Data Visualization Showcase