Member Since: December 17, 2012
Christian Prokopp holds a PhD in information retrieval and works as a data scientist at Rangespan. He spends his spare time as a columnist and blogger. He is passionate about data science and data-driven products, in particular about how they can solve real-world problems and add value to businesses. Before his current position, Christian was a Marie Curie Fellow, APAI researcher with an ARC project in Australia, consultant and project manager in Bangladesh, and IT manager and software engineer in Germany. You can read his blog, follow him @prokopp, and connect on Google+ and on LinkedIn.

Machine Learning
Machine Learning is a form of artificial intelligence that can be used to automate a lot of big data processes.
Archive

Latest Archived Broadcast
The Big Data Conference and Nemertes Research have teamed up to provide expert advice on building a big data team and finding the right leader. Join us on Tuesday, Aug. 20.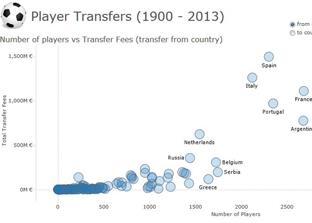 A great visualization of transfer fees leads us to think of deeper sporting analytics.
Explore this data here.
More Data Visualization Showcase