Today we're going to take a look at the V that makes big data big: Volume.
It's no secret we're inundated with data these days, from mobile devices, machines, social media, transactions, satellites… pretty much everything is throwing data out. And technology has reached a point that allows us to capture and keep everything, too.
Why would we bother?
Because controlling such a vast quantity of data can reveal information and patterns about the people and objects that we otherwise can't see.
An example:
John runs a tradeshow and wants to make it a really unique and repeatable experience for all his attendees.
Tim is an attendee at the show, and has been for five years. John's company has been tracking his every data point with the show for that whole time – from his online activity before the show, checking in to his hotel, scanning his ticket as he enters the show, the stands and sessions he has attended in previous years, even down to what he has had for his lunch.
Keeping hold of all of this data on Tim means John can present him with a really personalized experience – with a dedicated map and timetable guiding Tim to the content he has a history of making a beeline for, and even getting him a voucher for his favorite vegetarian lunch!
That's a lot of data, but what makes this really big data is that John's company has been collecting this information from every one of the attendees at every one of its shows – allowing it to offer this personalized and highly valued experience to everyone.
With good management of the volume of data, big data allows organizations to grow and experiment based on previous encounters.

kiran, User Rank: Megabyte Messenger
1/26/2013 | 3:49:35 AM
Re: Good Video

The video is indeed simple and to the point and explains the very important property of bigData , the amount and size. The data is produced by every machine, computer and electronic device that we use. This allows for the big volume of the data. however intelligent decision and work to be done is to filter out the data that we need from the pile of the data and analysie it for our requirements.



netcrawl, User Rank: Exabyte Executive
1/18/2013 | 12:26:37 AM
Re: He who has the most data wins!

The term "big data" has been used to describe the massive volumes of data analyzed by huge corporate companies like Google or Microsoft. It's all about finding new value within and outside conventional data sources, taking a huge analysis of the data and transforming that into something useful. Data analysis on big data goes beyond providing us with ever-increasing information about everything.




netcrawl, User Rank: Exabyte Executive
1/18/2013 | 12:16:04 AM
Re: He who has the most data wins!

Big data is all about volume, tons of information that can make a huge impact to the company's bottom line. The only question here is how do we stored those data and how do we analyzed those massive data?



Susan Fourtané , User Rank: Blogger
1/1/2013 | 11:11:58 AM
Re: He who has the most data wins!

Thanks, Anna.

This means, then, we could have a Big Data storage bank for future reference, in case we need to go back and use some of our old data which was not useful before but may be useful at some other point. Of course with the cloud this becomes simplified, and easier to manage, too.

I love your criminal investigations example. Very clear.

-Susan





Susan Fourtané , User Rank: Blogger
1/1/2013 | 11:00:05 AM
Re: He who has the most data wins!

Thanks, Daniel.

This is very clear example on how to keep your data clean and in order.

-Susan



deastman, User Rank: Bit Player
12/31/2012 | 10:32:19 PM
Re: He who has the most data wins!

I agree with this training theory. The basic premise being you never know what kind of situation the future may hold. So rather than just disregard a piece of data as insignificant rather store it and perhaps it can be useful in the future. Hmm... brings to mind a movie...Terminator anyone?



I'll be backk....



netcrawl, User Rank: Exabyte Executive
12/29/2012 | 7:22:56 AM
Re: He who has the most data wins!

If you know how to tame the data deluge then you have the potential to harness it power and turn that into new profit. . but before you do that you need to aquire four critical capabilities:

fast, cheap capture and storage of unstructured data

Cost-effective organization of data

Trend spotting using analysis tools

Engineered system that turn data into action



Anna Young, User Rank: Exabyte Executive
12/28/2012 | 1:40:23 PM
Re: He who has the most data wins!

Susan, Great question! Let me give a somewhat convoluted answer. Our ability to appreciate the data we collate is often restricted by the analytical tools we have today. The Big Data we think we've analyzed or that we think is not useful could prove useful in future based on the application of new tools.

It's like in criminal investigations. Remember all the data (evidence, blood samples and other items) collected from crime scene in the 50s, 60s and even in only the last decades but which were thought useless only for the same to be used more recently to confirm or reject previous conclusions? This has been possible only because of recent technology developments, DNA analysis, for instance. The same applies to the evaluation of Big Data and the question of what to do with data that is no longer "valuable."



Daniel Gutierrez, User Rank: Blogger
12/25/2012 | 3:44:29 PM
Re: He who has the most data wins!

Right ... during the data cleansing phase, the goal is to yield a clean data set for the purpose of analytics. This data set is simply a clean version of potentially dirty transactional data. We don't touch the original data.

Then during the feature engineering phase, it is necessary to select features (data elements) that may contribute to the success of the machine learning process. If a specific feature is determined to be non-valuable, it is not removed, just removed from the feature set (maybe temporarily, since the feature could be reinstated at some later time depending on requirements).



Susan Fourtané , User Rank: Blogger
12/25/2012 | 2:45:57 AM
Re: He who has the most data wins!

Thanks, Daniel.

So we agree on the importance of quality data.

When analyzing the results do you discard the data which will not have an effect for the purpose of your data collecting, and filtrate this to get a better quality of data, or you keep separately as extracted knowledge anyways?

-Susan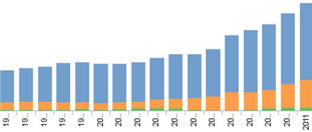 This Tableau visualization of international debt demonstrates how simple visualizations can give great insight
Explore this data here.
More Data Visualization Showcase

Latest Archived Broadcast
Join this radio show to truly understand what a CIO needs to do to build a successful private cloud and what skills and values the IT team will need to embody.